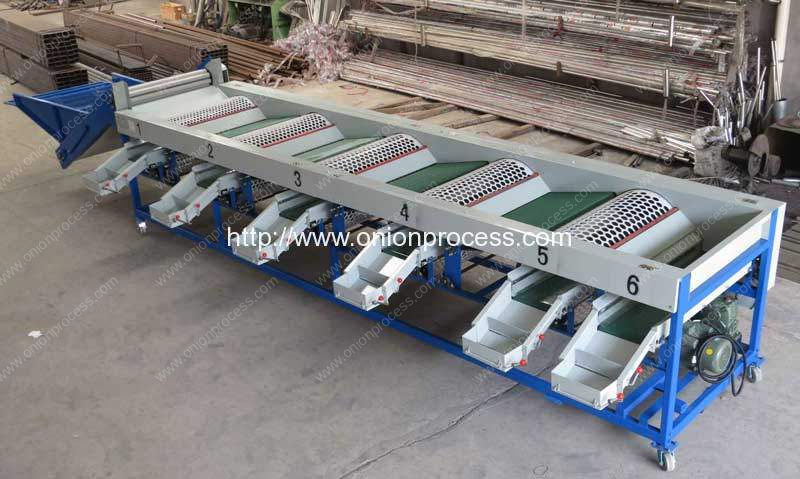 Automatic Onion Size Sorting Machine is used to sorting onion into different size. which used for selling or following process. Automatic Onion Size Sorting Machine include onion elevator and grading part. This machine is suitable for flat round vegetables like onions and garlic with a large capacity.
Specification of Automatic Onion Size Sorting Machine
Model:RM-SWG3000
Capacity: 3ton/h
Dimension: 5000*1350*1200m
Weight: 1500kg
Power: 2.2KW
Without Blower Type
Weight: 1000kg
NOTE: we can provide different capacity machine according to customer requirement
Working Video of Onion Size Sorting Grading Machine
Company Profile
Romiter Machinery Co., Ltd. is a market-leading designer and a manufacturer of onion processing machines. Romiter Machinery wins a wide reputation for high-quality machines with high efficiency, excellent reliability, easy maintenance, long lifespan and an excellent technical support team.
Now, Our factory can provide onion dry cleaning machine, onion size sorting grading machine, onion water washing machine, bulk type onion peeling machine, green onion peeling machine, batch type onion peeling machine, onion peeling and root cutting machine, onion root concave cutting machine, onion ring cutting machine, onion cube shape dice cutting machine, onion slice cutting machine, onion paste machine, onion crisp frying machine,  onion dryer machine, onion powder production line, onion dosing packing machine, onion mesh bag packing machine, onion transplanter and onion seeds planter
Our onion processing products have passed with CE, ISO and SGS Certificates and have been widely sold all over the world.